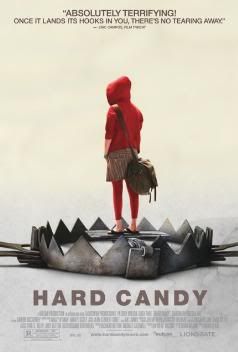 While recording our latest episode, we dipped a toe into a discussion about a movie I'm a big fan of. Coincidentally, it was also a precursor of sorts to Quid Pod Quo,  in that it was movie I "forced" Justine to watch early in our relationship.

Hard Candy stars Ellen Page and Patrick Wilson in what is, essentially, a two character piece about guilt, innocence, perception and what justice and evil really look like. So much of the impact of the movie depends on processing the information as it is presented to you,  that I'm loathe to reveal much of the plot. I will say that Ellen Page plays Hayley, a young teenage girl who befriends the much older Jeff (Wilson) on the Internet. They meet at a café but Jeff convinces her to come back to his place to continue hanging out.What follows is not at all what you may be expecting.
At turns ugly, brutal, and hard to watch; but nonetheless, it will leave you questioning your own feelings about the phrase "let the punishment fit the crime". And, as a comic book fan, it (perhaps unintentionally) makes you question the mindset that would drive a Batman, or a Wolverine to do what they do, and what that mindset looks like on someone not wearing a mask. Add to this stellar performances by Page & Wilson and you have what is easily one of my favorite films of the last decade.